Adamson to succeed Paula Derks effective March 25, 2019
LEE'S SUMMIT, MISSOURI, Oct. 8, 2018 -- Following an extensive search process, the Aircraft Electronics Association's board of directors announced its selection of Mike Adamson as its president and chief executive officer to become effective March 25, 2019, during the 62nd annual AEA International Convention & Trade Show in Palm Springs, California. Adamson will succeed Paula Derks, who is retiring next spring after serving as AEA president and CEO since 1996.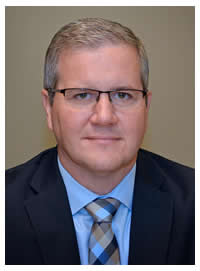 An accomplished and experienced association executive, Adamson will lead the AEA from its international headquarters in Lee's Summit, Missouri, which represents nearly 1,300 member companies in more than 40 countries, including avionics manufacturers and government-certified international repair stations specializing in maintenance, repair, and installation of avionics and electronic systems in general aviation aircraft.
Adamson has served as AEA vice president of member programs and education since 2007 and has been responsible for the AEA's training and education initiatives delivered to technicians and small-business owners in the United States, Canada, Europe, South Pacific and Latin America. He helped design, fund and equip the AEA's world-class training facility - the Dan Derby Center for Professional Development - that has trained more than 1,500 technicians during the last 10 years.
Since first joining the AEA staff as director of training and education in 1999, Adamson has also served as the executive director of the AEA Educational Foundation, which administers the largest scholarship program for aircraft and avionics maintenance technicians in the world. Through fundraising activities and key industry partnerships, the AEA Educational Foundation has awarded more than $1.5 million in scholarships to more than 500 students since its inception.
"Mike has widely been recognized and highly respected for the valuable contributions he has made to the AEA and the avionics industry for more than two decades," said AEA Board Chairman David Loso. "As an international trade association veteran, he has worked to establish the AEA as a market leader in technical training and professional development. I am confident he is the right person to build on the AEA's proud history of more than six decades and lead it into the future."
Prior to joining the AEA staff, Adamson served in critical customer-facing positions at two Fortune 100 companies. He also managed equipment sales contracts with major aircraft manufacturers in both commercial and general aviation market segments.
A military veteran, Adamson served in the U.S. Navy as an aircraft maintenance office administrator in a combat-ready squadron.
"Known to AEA members for developing and delivering valuable, cost-effective programs and services to businesses throughout the world, Mike has represented the association extremely well at key industry events," said AEA Board Vice Chairman Garry Joyce, who also will serve as the AEA's newly elected chairman beginning March 25, 2019. "Mike has creatively built and led new and innovative programs, from inception to development and implementation. He has the institutional knowledge to continue the association's history of success and will bring the next generation of leadership to our organization. I look forward to working with him and the entire AEA staff in the months and years ahead."
Adamson is an active member of several industry and academic advisory committees. He also volunteers his time speaking to hundreds of future aviators at local and national aviation outreach initiatives each year.
In addition, Adamson has served as an executive officer for the ASTM International Committee F46 on Aerospace Personnel, which works toward the development and maintenance of internationally accepted standards and guidance materials for aerospace personnel education. He also has served as a member of ASTM Committee F38 on Unmanned Aircraft Systems, which addresses issues related to design, performance, quality acceptance tests, and safety monitoring for unmanned air vehicle systems.
Adamson was a founding board member for the National Center for Aerospace & Transportation Technologies and has served on the program advisory councils for the Spartan College of Aeronautics and Technology in Tulsa, Oklahoma, and Tarrant County College in Fort Worth, Texas.
After completing a tour in the U.S. Navy, Adamson earned a bachelor's degree in aviation management from Southern Illinois University in Carbondale, Illinois, and a master's degree in business administration from Avila University in Kansas City, Missouri.
"First, let me congratulate Paula Derks on her well-deserved retirement," Adamson said. "I'm extremely grateful for her leadership during the past 22 years and could not have asked for a better mentor who has challenged and prepared me for this opportunity. I'm humbled and thankful for the opportunity to lead the association as president and CEO. It is an honor to work alongside our board of directors and talented staff already in place, and I look forward to advocating for our member companies and helping them grow their businesses. I am committed to enhancing the profitability of our members through a broad range of programs and services and to further our position as aviation's technology experts. The AEA will continue to be out front on the important issues affecting our membership and provide leadership on the organizational and philosophical changes taking place within the international regulatory authorities."
As AEA president and CEO, Adamson also will serve as publisher of the association's monthly magazine, Avionics News. He resides in Olathe, Kansas, with his wife, Megan, and their two children, McKenna and Nate.
"I am thankful to have been able to serve the AEA membership as its president and CEO for the past 22 years," Derks said. "I want to thank each of our member companies, all those who have served on our board during my tenure, and the dedicated team of staff members who work tirelessly to advance the vision and mission of the AEA. I congratulate Mike Adamson on his appointment as my successor, and I truly believe the board has chosen a great leader to help guide and shape our industry's future. He has been an outstanding leader within our organization, and I know he will be an effective advocate and create value for our membership. I look forward to working with Mike over the next few months to execute a smooth and seamless transition."
To download a high-resolution image of Mike Adamson, click here.
– 30 –
Founded in 1957, the Aircraft Electronics Association represents nearly 1,300 member companies in more than 40 countries, including approved maintenance organizations specializing in maintenance, repair and installation of aircraft electronics systems in general aviation aircraft. The AEA membership also includes manufacturers of aircraft electronics equipment, instrument repair facilities, instrument manufacturers, airframe manufacturers, test equipment manufacturers, major distributors, engineers and educational institutions.