What is NextGEN?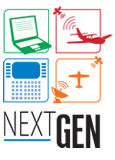 The FAA, in collaboration with industry, is deploying NextGen procedures and technology on the ground, in the air, at air traffic control facilities and in the cockpit. So, too, is the agency writing and enacting the policies that govern these advances. These improvements represent a widespread, transformative change in the management and operation of the way we fly. NextGen capitalizes on new and existing technologies, including satellite navigation and digital communications, to enhance safety, reduce delays, save fuel and reduce aviation's adverse environmental impact.
International Harmonization
From the beginning of NextGen, the FAA has placed a high priority on collaborating with other government agencies and international organizations in the development and implementation of air traffic management (ATM) advances worldwide.