What is the AEA Avionics Market Report?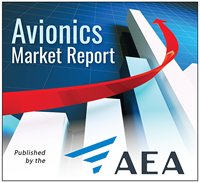 The AEA Avionics Market Report compiles the true dollar size of the business and general aviation avionics market. It is published on a quarterly basis by the Aircraft Electronics Association. The sales report provides valuable information to promote the business and general aviation avionics industry to investors and inform elected officials of its global economic value.
The dollar amount reported (using net sales price, not manufacturer's suggested retail price) includes: all business and general aviation aircraft electronic sales – including all component and accessories in cockpit/cabin/software upgrades/portables/certified and noncertified aircraft electronics; all hardware (tip to tail); batteries; and chargeable product upgrades from the participating manufacturers. The amount does not include repairs and overhauls, extended warranty or subscription services.