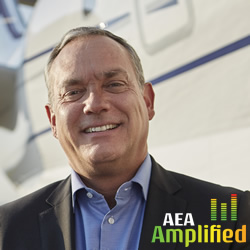 Sergio Aguirre, president of Gogo Business Aviation, has all the details on Gogo's 5G air-to-ground network and onboard equipment in this episode of AEA Amplified.
Gogo is the world's largest provider of broadband connectivity services for the business aviation market. An AEA member company since 1992, Gogo offers a customizable suite of smart cabin systems for highly integrated connectivity, in-flight entertainment and voice solutions. The company's products and services are installed on thousands of business aircraft of all sizes and mission types.
Sponsored by Genesys Aerosystems, a Moog Company, AEA Amplified is a podcast for aviation's technology experts. Learn more about the ever-changing world of avionics technologies from industry professionals and aviation enthusiasts. Subscribe to AEA Amplified on Apple Podcasts, Google Podcasts, Pandora, Podbean, iHeart Radio or Spotify.