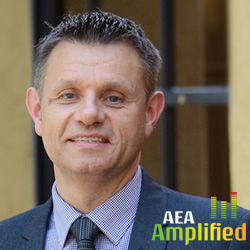 Garry Joyce recently completed a successful three-year term as chair of the AEA's board of directors. Under his leadership, the association completed a strategic planning process to set the course for the years ahead while navigating through the COVID-19 pandemic, supply chain constraints, and workforce development challenges.
Joyce is the co-owner of IAE, which is located at Little Staughton Airfield in Bedfordshire, United Kingdom, and he is the first AEA chairman from outside North America. He reflects on his time as AEA chairman and looks ahead to the future in this episode of AEA Amplified.
Sponsored by Genesys Aerosystems, a Moog Company, AEA Amplified is a podcast for aviation's technology experts. Learn more about the ever-changing world of avionics technologies from industry professionals and aviation enthusiasts. Subscribe to AEA Amplified on Apple Podcasts, Google Podcasts, Pandora, Podbean, iHeart Radio or Spotify.