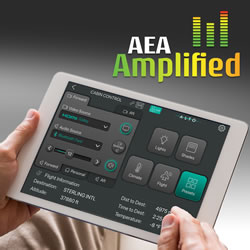 ALTO Aviation is an industry leader in designing and manufacturing high-end cabin audio and entertainment systems for business aviation aircraft. Now celebrating 25 years in business, the company offers a wide range of products sold to most major OEMs and installed by authorized retrofit companies. ALTO also manufactures precision sheet metal and machined parts for multiple industries and aerospace.
An AEA member company since 2003, ALTO Aviation President Don Hamilton and Vice President of Engineering and R&D Steve Scarlata share their company's success story in this episode of AEA Amplified.
Sponsored by Genesys Aerosystems, a Moog Company, AEA Amplified is a podcast for aviation's technology experts. Learn more about the ever-changing world of avionics technologies from industry professionals and aviation enthusiasts. Subscribe to AEA Amplified on Apple Podcasts, Google Podcasts, Pandora, Podbean, iHeart Radio or Spotify.