Industry Total Avionics Sales Amount to More Than $1.72 Billion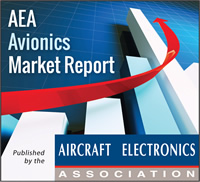 LEE'S SUMMIT, MO., Nov. 22, 2013 -- The Aircraft Electronics Association announced its third quarter Avionics Market Report for this year. In the months of July, August and September 2013, total worldwide avionics sales amounted to $1,721,888,397.14, or more than $1.72 billion, as reported by the 20 aviation electronics manufacturers participating in the report.
The extent of the quarterly report simply is one total number: the collective sales figure -- both forward-fit and retrofit -- for the current time period sales, as received from the participating manufacturers.
The dollar amount (using net sales price, not manufacturer's suggested retail price) includes: all aircraft electronic sales -- including all component and accessories in cockpit/cabin/software upgrades/portables/noncertified aircraft electronics; all hardware (tip to tail); batteries; and chargeable product upgrades from the participating manufacturers. The amount does not include repairs and overhauls, extended warranty or subscription services.
The third quarter sales of $1,721,888,397.14 were the most robust of the three quarters reported thus far in 2013. For example, the first quarter sales were $1,706,006,894.49, or more than $1.7 billion, while the second quarter report amounted to $1,620,201,160.49, or more than $1.6 billion.
By combining the first three quarterly reports of the year, $5,048,096,452.12 in total worldwide avionics sales has been reported in the first nine months of 2013, or more than $5 billion. Last year's total year-end sales for 2012 amounted to $6,279,317,197.54, or nearly $6.3 billion. The 2013 year-end report will be announced at the 57th annual AEA International Convention & Trade Show, March 12-15, 2014, in Nashville, Tenn.
"It's important to remember that the AEA Avionics Market Report is still in its first year of existence, and it has not had the opportunity to gather and report a complete year's worth of data on a quarter-by-quarter basis," said Paula Derks, AEA president. "However, the first year of reporting will establish a baseline to compare future total avionics sales against the same time period from previous years."
History and Background Information:
The AEA first introduced its Avionics Market Report March 26, 2013, during the 56th annual AEA International Convention & Trade Show in Las Vegas, Nev.
The concept to produce the AEA Avionics Market Report began in April 2012, when the AEA formed an ad hoc committee comprised of representatives of avionics manufacturers to solicit input on a new benefit for the AEA membership and general aviation industry. To date, 20 aviation electronics manufacturers have committed to participate in the report. Additional manufacturers will continue to be invited to contribute sales data. Eligible companies interested in participating in the report should contact the AEA.
The AEA Avionics Market Report will continue to expand and provide greater detail in future reports. In 2014, it will report not only the total dollar amount of worldwide sales for the current time period, but it will divide total sales between domestic and international sales and forward-fit versus retrofit sales.
"Never before has there been a true capture of the dollar size of the general aviation electronics market," said Paula Derks, AEA president, when the AEA Avionics Market Report was unveiled last March. "Not only will this report be useful to our membership in strategic planning and examining market share, but it will be valuable information to promote our industry to the aviation community, investors, and most importantly, when informing our elected officials of the value of the industry to the global economy."
To ensure confidentiality, the participating manufacturing companies submit their overall avionics sales figure to an independent third-party accounting firm retained to produce the AEA Avionics Market Report. The companies currently participating in the report include:
Accord Technology
Aircell
Anodyne Electronics Manufacturing Corp.
Aspen Avionics
Bendix/King
Cobham (Mineral Wells)
Cool City Avionics
FreeFlight Systems
Garmin
Honeywell Business & General Aviation
ICG
Jupiter Avionics
Latitude Technologies
L-3 Aviation Products
Mid-Continent Instruments and Avionics
Rockwell Collins
Sandia Aerospace
Shadin Avionics
Trig Avionics
Universal Avionics Systems Corp.
For more information about the AEA, visit www.aea.net.
– 30 –
Founded in 1957, the Aircraft Electronics Association represents nearly 1,300 member companies in more than 40 countries, including approved maintenance organizations specializing in maintenance, repair and installation of aircraft electronics systems in general aviation aircraft. The AEA membership also includes manufacturers of aircraft electronics equipment, instrument repair facilities, instrument manufacturers, airframe manufacturers, test equipment manufacturers, major distributors, engineers and educational institutions.