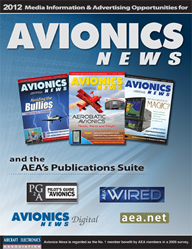 The 2012 AEA media kit is now available online at www.aea.net/AvionicsNews. The information includes the full menu of marketing options available through the AEA and its publications suite, such as the 2012 editorial calendar and advertising rates for Avionics News magazine (including a new digital format online and Marketplace opportunities), AEA Wired e-newsletter, Pilot's Guide to Avionics and the AEA Convention Schedule of Events.
Avionics News magazine, a monthly publication of the AEA, is the voice of the general aviation electronics industry. The magazine is read by the decision-makers in the industry. The majority of Avionics News readers are the owners, managers and technicians of Part 145 repair stations who sell, service and install avionics. They are in the position to recommend products to the end-users — their customers.
Avionics News will be available in print and digital formats for the first time in 2012. All advertisements will be placed in both formats at no additional cost. Inquire about additional opportunities to upgrade print advertisements to digitally interact with your audience.
Also, as an added benefit for placing a help wanted ad in the Avionics News Marketplace classified adver­tising section, the same ad also is placed in the Careers section of the AEA/Avionics News website during the same month for no additional charge.
The 2012-13 Pilot's Guide to Avionics is the pilot's single source for avionics buying decisions. If your customers are pilots or owners of general aviation, business aviation or sport aviation aircraft, the Pilot's Guide to Avionics is your can't-miss advertising opportunity.
For more information, contact Lauren McFarland at laurenm@aea.net or Linda Adams at lindaa@aea.net, or call the AEA at 816-347-8400.