FAA-Accepted Training -- 8 hours toward IA Renewal
The 13th annual Avionics News Technical Training Exam is now available. The exam may be taken online by Aircraft Electronics Association members or downloaded by non-members at www.aea.net/avionicsnews.
By completing the exam, which covers regulatory and technical topics featured in the 2013 issues of Avionics News, technicians can get a head start on their FAA-accepted training.

Individuals who complete the exam and score 85 percent or higher receive credit toward IA renewal, Federal Aviation Administration AMT awards and the AEA Avionics Training Excellence Award.

Applications for the ATE Award are available online by clicking here. The deadline for submitting applications for the ATE Award is April 1.

For a company to be eligible for the ATE Award, all of its technicians must have completed at least one AEA training event in 2013, which includes:
AEA Regional Meetings or the AEA International Convention & Trade Show.
Avionics News Technical Training Exam.
AEA computer-based training.
OEM and AEA partner training.
Get recognized for your commitment to training by displaying the ATE Award plaque, window decal, hangar banner and hangar signs at your business.
For more information, contact Mike Adamson, AEA vice president of member programs and education, at 816-347-8400 or mikea@aea.net.
Click here to take the Technical Training Exam
---
AEA Scholarship Applications Due February 15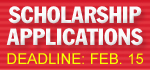 The Aircraft Electronics Association Educational Foundation will award several scholarships totaling more than $125,000 for the 2014-15 school year to students pursuing a career in avionics or aircraft maintenance, as well as students from AEA member companies. If you are interested in one or more scholarships, visit www.aea.net/scholarships to download an application.

The deadline to submit an application is Feb. 15, 2014.

The scholarships will be awarded in March at the 57th annual AEA International Convention & Trade Show in Nashville, Tenn.

Click here to download a scholarship application