The making of a third-generation aviator on latest episode of AEA Amplified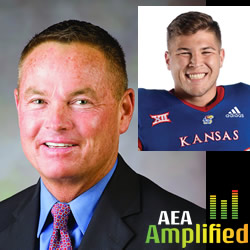 Mac and David Copeland share their family's unique aviation history in this episode of AEA Amplified. Mac is following in big family footsteps as a third-generation pilot. He recently completed his first solo while attending college and working toward his private pilot certificate. His father, David, is the vice president of sales for Mid-Continent Instruments and Avionics. And his grandparents, John and Marilyn, operated an airport, one that felt more like home than the house. With links to Charles Lindbergh and Amelia Earhart, listen to the Copeland family's incredible aviation story. Tune in to this episode of AEA Amplified.
From the Aircraft Electronics Association, AEA Amplified is a podcast for aviation's technology experts. Learn more about the ever-changing world of avionics technologies from industry professionals and aviation enthusiasts. Subscribe to AEA Amplified on Apple Podcasts, Google Podcasts, Podbean, iHeart Radio or Spotify.