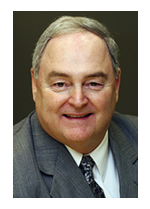 The Aircraft Electronics Association is saddened to learn of the passing of Michael (Mike) J. O'Leary, who died Feb. 14 at the age of 69 following complications from COVID-19.
O'Leary worked for numerous AEA member companies during a distinguished career that spanned more than 50 years. He served on the AEA's board of directors from 1996 to 2009 and was chairman from 2002 to 2009, making him the longest-serving chairman in the organization's history. O'Leary also served as the board's secretary and vice chairman during his tenure, and his leadership was instrumental in guiding the association's move to its state-of-the-art international headquarters with a world-class training center in Lee's Summit, Missouri. In 1998, he was named the AEA Member of the Year.
O'Leary retired in June 2020 from Elliott Aviation and moved to Arizona to enjoy the weather and be closer to family.
Born and raised on a farm in northwest Iowa about 9 miles north of Emmetsburg, O'Leary learned at an early age how to handle machinery and work the land. Upon graduation from Emmetsburg High School, he enlisted in the U.S. Navy at the age of 17. He did two tours of duty in Vietnam as a torpedo man on a destroyer, the USS Towers. After his military service, O'Leary followed his father's passion for aviation and took up flying. He earned his pilot's license, A&P mechanic license, became an avionics installer, and earned several pilot ratings (private; commercial; instrument; multiengine; instructor). He also logged thousands of hours of flight time.
O'Leary enjoyed his chosen profession in aviation, and his career was a central part of his life. He loved airplanes and working with people. O'Leary was the consummate professional and was truly an expert in his field and a perfectionist when it came to his work.
He made countless special friends as his aviation career took him to many different cities – living and traveling extensively across the U.S. He was an engaging, charming conversationalist and a great storyteller and always up for a good joke.
He is survived by his wife of 22 years, Patricia (Patty); daughter, Jennifer, and her husband, David Courtney; sister, Maureen; nephew, James, and his wife, Elise; plus many cousins and other family members and countless friends. He was predeceased by his parents, William (Bill) and Virginia (Ginny) O'Leary.
In lieu of flowers, a donation may be made to the Gary Hutchinson Memorial Chapter 1028 of the Vietnam Veterans of America or the Emmetsburg Veterans of Foreign Wars Post 2295.
A celebration of life is being planned by the immediate family and is tentatively scheduled for Saturday, Sept. 12, 2021, in Phoenix, Arizona. More details will be provided at a later date.