AEA announces 2023 award winners
Dewey Conroy of Pacific Coast Avionics is Member of the Year; Avidyne is Associate Member of the Year
LEE'S SUMMIT, MISSOURI, April 18, 2023 -- Two prestigious industry awards were announced today, and the recipients will be honored during the opening session of the 66th annual Aircraft Electronics Association International Convention & Trade Show at the Gaylord Palms Resort and Convention Center in Orlando, Florida, April 24.
Determined in a vote by AEA members, Dewey Conroy of Pacific Coast Avionics was named the AEA Member of the Year, while Avidyne was honored as the AEA Associate Member of the Year.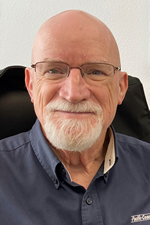 2023 AEA Member of the Year: Dewey Conroy
Dewey Conroy learned to fly when he was 19 and went to work as a fueler and cleaner of customer aircraft for a Commander dealer in Hillsboro, Oregon, in 1979, where he worked his way to the parts department.
In 1984, Conroy accepted an offer from American Avionics in Seattle to do inventory control. Shortly after, he was asked to work in avionics sales. By 1989, he was promoted to avionics sales manager.
In 1991, Rick Garcia of Gulf Coast Avionics asked Conroy to be a partner in starting a West Coast avionics shop. On June 1, 1991, Pacific Coast Avionics opened its doors in Auburn, Washington, with one employee: Conroy.
By 1997, Pacific Coast Avionics needed to expand and moved to its current location at the Aurora State Airport. Since then, the company has grown from four employees and 6,500 square feet to 24 employees (14 installers) and over 18,000 square feet.
With Conroy serving as vice president and chief operating officer, Pacific Coast Avionics has been awarded the Garmin Platinum Elite Dealer Award numerous times and is recognized as one of the best shops on the West Coast.

2023 AEA Associate Member of the Year: Avidyne
Avidyne Corp. is a market leader in the design and manufacture of avionics systems for general aviation aircraft. Experienced entrepreneur and pilot Dan Schwinn founded Avidyne in 1994 with the mission of modernizing general aviation avionics by applying advanced technology in order to improve safety and increase aircraft utility.
For 29, years, Avidyne has a long history of developing highly innovative, technologically advanced avionics systems, providing compelling and competitive products for the dealer channel to sell, install and support.
Avidyne's extensive avionics product line offers dealers a strong and competitive option in the GA and business aviation avionics market space. This product line includes GPS-based flight management systems; VHF navigation/communication systems; digital flight control systems; and a range of ADS-B capable transponders and traffic advisory systems.
An AEA member company since 1995, Avidyne continues to be a strong supporter of the association, its programs, and its member dealers. Avidyne actively promotes the AEA and participates in providing technical training for member dealers at AEA Conventions, at domestic and international AEA Regionals, and at AEA headquarters.
With the launch of the IFD540, IFD440 and IFD550 FMS/GPS/Nav/Com, as well as the Atlas and Helios FMS systems for business aviation and helicopters, respectively, Avidyne provides highly capable avionics systems for its mutual customers.
Avidyne has made significant investments in the growth of its technical support team, and its innovative Interactive Installation Manual, along with a comprehensive web-based dealer portal and online dealer knowledge base, are designed to provide world-class support to dealers.
Avidyne's headquarters and manufacturing are in Melbourne, Florida, with engineering facilities in Westerville, Ohio, and Concord, Massachusetts. This is the second time Avidyne has been named AEA Associate Member of the Year, with the first award presented in 2002.