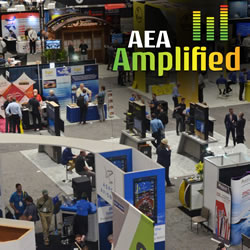 The 66th annual AEA International Convention & Trade Show is the place to be for avionics training, networking, new product introductions and more. The four-day event takes place at the Gaylord Palms in Orlando, Florida, April 24-27, 2023.
Avionics technicians and small-business owners will reconnect with their manufacturer and distributor representatives, train on the latest products, and learn industry best practices. Two full days of exhibits with more than 130 companies await. Tune in for a sneak peek of this year's event with AEA President and CEO Mike Adamson in this episode of AEA Amplified.
Sponsored by Genesys Aerosystems, a Moog Company, AEA Amplified is a podcast for aviation's technology experts. Learn more about the ever-changing world of avionics technologies from industry professionals and aviation enthusiasts. Subscribe to AEA Amplified on Apple Podcasts, Google Podcasts, Pandora, Podbean, iHeart Radio or Spotify.