LEE'S SUMMIT, MISSOURI, June 9, 2017 -- The Aircraft Electronics Association announced the recipients of the annual Avionics Training Excellence Award, which recognizes AEA member companies for their total commitment to training as evidenced by participation in AEA-approved training. More than fifty member companies received the 2016 AEA Avionics Training Excellence Award. 
Mike Adamson, AEA vice president of member programs and education, said AEA-certified repair station members are trained far beyond the Federal Aviation Administration requirements and demonstrate a commitment to training few other industries match. 
"The AEA develops high-quality, cost-effective regulatory and technical training for technicians to meet their employer's training program requirements and their own professional development goals," Adamson said. "Interest in AEA training expands beyond our membership and our borders as our reputation for excellence becomes more widely known."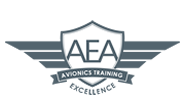 For a member company to be eligible for the AEA Avionics Training Excellence Award, all of its technicians must have completed at least one AEA-approved training event in the previous year, which includes the courses conducted at AEA headquarters; the AEA International Convention & Trade Show; AEA Connect Conferences; the Avionics News Technical Training Exam; AEA computer-based training; original equipment manufacturer training from AEA associate member companies; and AEA partner training. 
The following companies completed the training requirements and received the 2016 AEA Avionics Training Excellence Award: 
Absolute Aviation LLC, Edgewater, Florida
Aerotronics Inc., Billings, Montana
Airborne Avionics, Winnsboro, South Carolina 
Aircraft & Avionics Sales Inc., New Cumberland, Pennsylvania
Arapahoe Aero Avionics, Englewood, Colorado
Atlas Aircraft Center, Portsmouth, New Hampshire
BlackRock Aircraft Maintenance & Avionics, Hazle Township, Pennsylvania
Capital Avionics Inc., Tallahassee, Florida
CE Avionics Inc., Sanford, Florida
Century Flight Systems Inc., Mineral Wells, Texas
Dakota Avionics, Bismarck, North Dakota
Dyersburg Avionics of Caruthersville Inc., Caruthersville, Missouri
Executive Autopilots Inc., Sacramento, California
Flight-Deck Avionics, Salt Lake City, Utah
Flightpath Aviation Services, Brooksville, Florida
Flightstar Corp., Savoy, Illinois
Freedom Air Avionics, Broomfield, Colorado
Gibbs Service Center Inc., San Diego, California
Georgia Avionics Inc., Winder, Georgia
Gulf Coast Avionics Corp., Lakeland, Florida
Gulfstream Aerospace, Appleton, Wisconsin
Gulfstream Aerospace, Dallas, Texas
Islip Avionics Inc., Ronkonkoma, New York
JP Avionics, Hoedekenskerke, The Netherlands
Kent Career Technical Center, Grand Rapids, Michigan
Kitchener Aero Avionics Ltd., Breslau, Ontario, Canada
L3 Vertex Aerospace, Madison, Mississippi
Maine Aviation Aircraft Maintenance LLC, Portland, Maine
Mayday Avionics Inc., Grand Rapids, Michigan
National Jets Inc., Fort Lauderdale, Florida
Nolan Avionics, Durant, Oklahoma
Northeast Air Inc., Portland, Maine
Northern Lights Avionics, Anchorage, Alaska
Park Rapids Avionics, Park Rapids, Minnesota
Pegasus Technologies Inc., Green Cove Springs, Florida
Pfizer Inc., West Trenton, New Jersey
Preferred Avionics & Instruments, Howell, Michigan
PrivateSky Aviation Services, Fort Myers, Florida
Prodigious Jet Services LLC, Lake Worth, Florida
Q.F. Avionics Center Ltd., Red Deer, Alberta, Canada
Quest Avionics Inc., Ocala, Florida
R & Z Avionics Ltd., Delta, British Columbia, Canada
Signature TechnicAir, Frederick, Maryland
Southeast Aerospace Inc., Melbourne, Florida
Spirit Aeronautics, Columbus, Ohio
Sun Aviation Avionics, Vero Beach, Florida
Textron Aviation-Tampa, Tampa, Florida
Tomlinson Avionics of Florida, Fort Myers, Florida
Top Flight Avionics, Belleville, Michigan
Vortek Aviation, Tomball, Texas'
Wilmington Avionics, New Castle, Delaware 
Applications for the 2017 award will be available online beginning in January 2018. For more information about the AEA Avionics Training Excellence Award, visit aea.net/training/ate.
– 30 –
Founded in 1957, the Aircraft Electronics Association represents nearly 1,300 member companies in more than 40 countries, including approved maintenance organizations specializing in maintenance, repair and installation of aircraft electronics systems in general aviation aircraft. The AEA membership also includes manufacturers of aircraft electronics equipment, instrument repair facilities, instrument manufacturers, airframe manufacturers, test equipment manufacturers, major distributors, engineers and educational institutions.