Gunter Hemmel becomes the first European named AEA Member of the Year. An active member of the AEA, his company, Avionik Straubing, has been a long-time AEA member, and he serves on the AEA Europe Technical Advisory Committee.
Since 1970, Hemmel has been engaged in aircraft electronics. He founded his first company in Munich, called IFL, and received his license as certifying staff. In 1977, he founded his own avionics shop, Avionik Straubing.
The company is located at the Straubing-Wallmuhle airfield in Atting. He began with three employees, continuing with the establishment of the GmbH in 1986. The company is led by Hemmel and his wife, Iris, whom he married in 1978.
Together, they have built the company to become one of the largest avionics companies in Europe with international clients. The company also has established a reputation in the military sector. Helicopters of the German army are flying with products which he develops.
Hemmel is well known throughout the AEA European region, and he attends the AEA Europe Regional Meeting every year, as well as the AEA International Convention & Trade Show in the United States. Today, the staff of Avionik Straubing has reached 50 employees.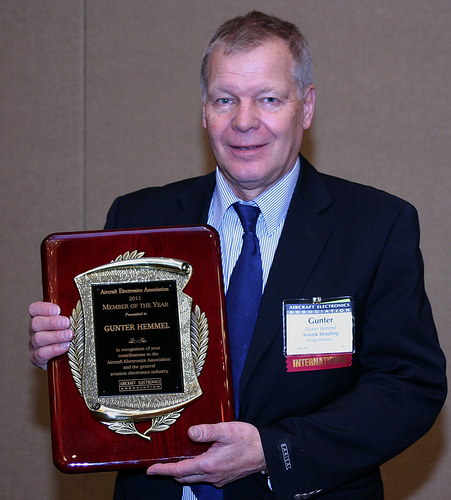 The 2011 AEA Member of the Year nominees were:
Don Dominguez, San Luis Avionics, San Luis Obispo, Calif.
Gunter Hemmel, Avionik Straubing GmbH, Germany.
Arnold Hill, Des Moines Flying Service, Des Moines, Iowa.
Fabian Oyarbide, Redimec SRL, Argentina.
Rick Peavley, Vero Beach Avionics, Vero Beach, Fla.