Garmin is the recipient of the 2011 AEA Associate Member of the Year Award, a visionary in the field of global positioning system technology.

When GPS technology was still in its infancy, Garmin's founders envisioned a wide range of products that would help pilots, mariners and consumers pinpoint positions and navigate to destinations.
In 1989, Gary Burrell and Dr. Min Kao formed a company to carry out their vision. Their company's name is a combination of the founders' names.
Gary and Min thought GPS was going to change the face of navigation. Garmin's goal, as it was then, remains simple: To create navigation and communication devices that can enrich its customers' lives.
Garmin entered the aviation market with the GPS 100, a panel-mounted receiver targeted to aviation, marine, military and survey.
Over its 21-year history, Garmin has continued to bring many innovative and market "firsts" to the aviation industry.
In 1991, the company introduced the world to the GPS 95, the first portable GPS with a moving map. In 1994, the GPS 155 panel-mount unit was the first GPS receiver on the market to receive full FAA certification for IFR approaches.
In 1998, Garmin introduced the GNS 430 that integrated GPS, COM, VOR, LOC and glideslope into a compact package with a full-color moving map – all for less than $10,000. The G1000 all glass cockpit followed in 2003, and it's now the cockpit of choice on over 30 aircraft models by more than 10 aircraft OEMs.
In 2006, Garmin announced WAAS certification for the GNS 400/500, which gave pilots access to hundreds of additional airports. In 2009, Garmin introduced more than a dozen new aviation products that spanned from light sport aircraft to high performance jets, including, the G3000, a fully integrated touchscreen cockpit for Part 23 turbine aircraft; and the G500, an all-glass cockpit for Part 23 Class I/II aircraft models that has been certified for retrofit on nearly 600 aircraft models and has advanced features like synthetic vision. In 2010, Garmin announced the G5000, its first integrated flight deck for the Part 25 aircraft market.
Garmin unveiled the GTN 650 and GTN 750 series touchscreen avionics earlier this week at the AEA convention.
Today, with more than 8,000 employees and 20 offices worldwide, Garmin is a global leader in GPS.
Since its beginning, Garmin has been an active member of the Aircraft Electronics Association. Gary Kelley, Carl Wolf, and currently, Matthew Harrah have served on the AEA board of directors.
Garmin sponsors an annual AEA Educational Foundation scholarship and supports the Foundation through significant donations to the annual silent auction. 
Dealers count on Garmin to provide training classes at every AEA regional meeting in every corner of the world as well as at the annual international convention each year.
They are one of the few AEA associate member companies who have been recognized by its dealers twice before as the Associate Member of the Year, in 1994, and again in 2000.
For their innovative products and customer support, dealers are saying thank you to Garmin as their selection for the 2011 AEA Associate Member of the Year Award.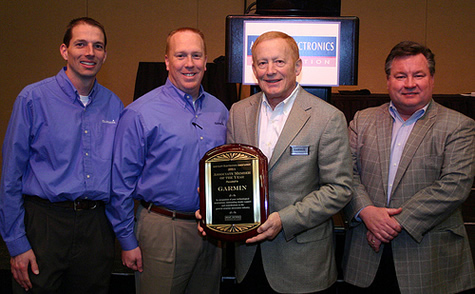 The 2011 AEA Associate Member of the Year nominees were:
Flight Display Systems, Alpharetta, Ga.
Garmin, Olathe, Kan.
Mid-Continent Instruments, Wichita, Kan.
PS Engineering, Lenoir City, Tenn.