Win a taste of Kansas City BBQ!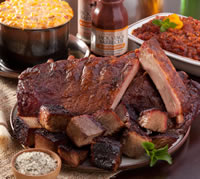 Experience a 50-year tradition of remarkable barbecue. Located in the heart of Kansas City, Jack Stack restaurants have been recognized as the country's best barbecue by the prestigious Zagat survey. Featuring signature hickory-fired brick ovens and superior meats, Jack Stack shatters expectations of how good barbecue can be.
To celebrate the holiday season, the AEA is giving away a BBQ feast to one lucky member company that submits items for December EEDirect!
The winner will be randomly selected from all December EEDirect submissions.
The winner will be contacted via email by Dec. 2. BBQ will be shipped directly to the winner from Jack Stack BBQ.
---
Clean off your shelves of year-end used inventory and pocket some cash for the holidays!
EEDirect
Submit your company's excess inventory of parts, new and used avionics, instruments and test equipment for AEA's EEDirect monthly listing.

To ensure accuracy of your data, download the EEDirect Template and the
file layout instructions.

Turn excess inventory into extra sales!

Each AEA member company may submit an unlimited number of items -- the first 25 are free and additional items are only 90 cents each.

If your items have not changed from last month, send an email with your company name and message to use last month's file.

Please email EEDirect files to eedirect@aea.net by end of the day, Thursday, Dec. 1.
Need help getting your file created? Contact Aaron Ward, director of information services, at aaronw@aea.net or 816-347-8400.
Important reminders:
EEDirect items must contain either a price or exchange price. Any item without a price or exchange price will not be included in the EEDirect data.
If you have already sent in your items, your company has been entered to win the BBQ giveaway, and you may disregard this notice.