Edward J. King Jr., the founder of King Radio Corp., passed away June 3 at the age of 90.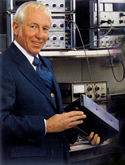 After graduating from Kansas State University in 1943, he worked for several companies before founding Communications Accessories Co. in 1948. King sold the company to Collins Radio Corp. in 1955. He continued to work for Collins until 1959, when he founded King Radio in his basement. Sales for King Radio increased with the growth in the general aviation market, and the company employed thousands.
He later sold King Radio to Allied Signal/Bendix Aerospace in 1985, and retired. In 2002, he became the second recipient of the AEA Lifetime Achievement Award, the highest honor bestowed upon an individual by the AEA's board of directors, for exemplary service to the general aviation industry.
"Ed King is an avionics icon, and the AEA is saddened by his recent death," said Paula Derks, AEA president. "His entrepreneurial leadership in founding King Radio led the way for many others and helped facilitate the growth and development of the avionics industry. Our association expresses its deepest sympathies to his wife of 32 years, Carolyn, and his children and grandchildren."
For more information, visit http://www.kingestate.com/featured/edjr/.