ATTENTION! Please Read...
The AEA has learned of a potential SCAM regarding AEA Members' MGM Grand Hotel Reservations in Vegas.
If you receive a phone call or and (an not and) email from "EHS Housing" or ops@ehshousing.com regarding your room reservation in Vegas, please disregard and delete. IT IS A SCAM!
Unfortunately, a couple of members have reported they have received this special offer, only to have their existing reservations canceled with the promise of a better rate. The MGM has confirmed it does not honor these offers.
If you happen to receive a phone call or one of these emails, we ask that you kindly let us know so we can report it to the MGM Grand Hotel.
Here's the real deal!
Hotel Reservations Deadline is February 21
$140 per night -- AEA group rate.
$75 one-time credit per room in restaurants/shops at MGM Grand Hotel.
Daily resort fee of $20 is waived for AEA members!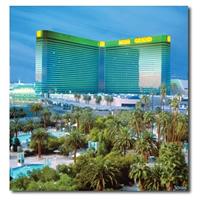 Don't press your luck...Las Vegas is a popular place to be in March with spring break and the NCAA college basketball championships, and the AEA room block is going quickly. Secure your hotel reservation today, and take advantage of the AEA rate and special offer from the MGM Grand Hotel.

MGM Grand Hotel & Convention Center
3799 Las Vegas Boulevard South
Las Vegas, NV 89109
800-929-9411
Make a hotel reservation