On Wednesday, Sept. 11, the 16th annual AEA South Pacific Regional Meeting began two days of training, networking and professional development opportunities for AEA member companies at the Mercure Brisbane in Brisbane, Queensland, Australia. The first day opened with a regulatory update presented by Ric Peri, AEA vice president of government and industry affairs, followed by a program status and discussion of fitment rates for ADS-B by Greg Dunstone, senior engineering specialist for Airservices Australia.
Several companies are on-site for product and technical training sessions, including Mid-Continent Instrument and Avionics; True Blue Power; Laversab; FreeFlight Systems; Aspen Avionics; Avidyne; and Garmin.
The event is set to conclude with an update on the AEA's proprietary Safety Management Systems program, which is designed for maintenance organizations, sized for small businesses and leveraged by the 900-strong repair station membership.
In addition, the AEA South Pacific Outstanding Trainee Award will be presented to deserving recipients. Presented by EDMO Asia Pacific and Hamilton Aero, this annual award recognizes apprentice and trainee technicians, employed by AEA an member company, for their exemplary performance and demonstrated professionalism in the field.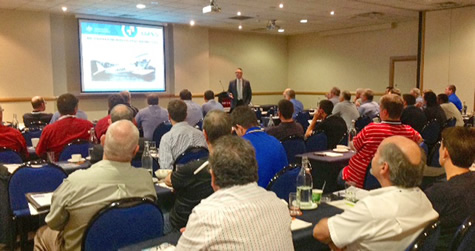 CASA's Jim Coyne speaks to a packed room on the history and future applications of unmanned aerial systems at the annual AEA South Pacific meeting in Brisbane.