LEE'S SUMMIT, MISSOURI, Jan. 2, 2020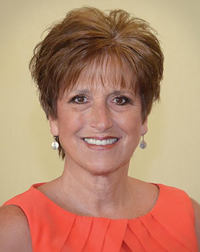 -- Aviation industry veteran Rachel Hill was named director of advertising for the Aircraft Electronics Association, effective Jan. 1, 2020.
Hill has served the AEA since March 2018 as an independent contractor, where she helped guide the advertising sales effort for Avionics News, the association's monthly magazine, as well as the AEA Pilot's Guide, a consumer's guide of avionics that is published annually.
"After working closely with the AEA team for nearly two years, we are excited to bring Rachel on board as we continue to advance our advertising partnerships for both print and digital publications," said Mike Adamson, AEA president and chief executive officer. "She brings a wealth of industry knowledge and experience that will help our members and customers introduce their products and services to the marketplace. Hill will also help guide an expanded communications effort through the evolving digital landscape."
A native of Crossville, Tennessee, Hill brings nearly 30 years of experience working in the aviation community. Her aviation career began in 1990 at TAP Publishing Co., where she spent more than two decades in advertising sales with the publisher's flagship magazine and online market, Trade-A-Plane. Hill also served nearly two years as the publisher for Trade-A-Plane following her executive appointment in October 2015. 
"I am thrilled to be part of such an established organization like the AEA, which has served the general aviation industry for more than 62 years," Hill said. "Avionics News is an established brand that begins its 57th year of publication in 2020, and it is well known as the voice of the general aviation electronics industry. This is an incredible professional opportunity for me to work with individuals who are well respected in the industry and who demonstrate integrity while providing quality services. I was so honored to be asked to serve the AEA as an independent contractor nearly two years ago, and I'm even more delighted to join the AEA team of professionals full time. I look forward to the future of working with aviation businesses to develop a coordinated marketing message that packages print, digital, social media and show distribution services."
Click here to review advertising opportunities with the AEA, or email Hill at rachelh@aea.net.
– 30 –
Founded in 1957, the Aircraft Electronics Association represents nearly 1,300 member companies in more than 40 countries, including approved maintenance organizations specializing in maintenance, repair and installation of aircraft electronics systems in general aviation aircraft. The AEA membership also includes manufacturers of aircraft electronics equipment, instrument repair facilities, instrument manufacturers, airframe manufacturers, test equipment manufacturers, major distributors, engineers and educational institutions.