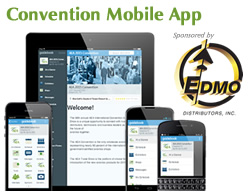 There's an App for that!
Sponsored by EDMO Distributors, the AEA Convention mobile app is now available to assist convention attendees on the go! 
The app is compatible with iPhones, iPads, iPod Touches and Android devices. 
Windows Phone and Blackberry users can access the same information via the mobile site by clicking here.
Features of the AEA Convention app include: 
AEA Convention schedule.
Hotel and convention center maps.
Exhibitor list/information.
Instant updates on AEA Convention activities.
For a complete AEA Convention mobile app overview, click here.