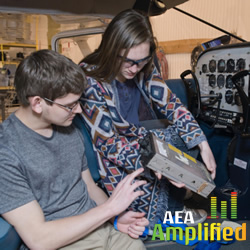 Kent Career Tech Center offers aviation maintenance and electronics programs to high school students in Grand Rapids, Michigan.
In this episode of AEA Amplified, we visit with instructors Nick Brown and Josh Miller to learn how Kent Career Tech Center is a model program for other schools to follow in educating the next generation of avionics technicians. The school has been an AEA academic member since 2016.
Sponsored by Genesys Aerosystems, a Moog Company, AEA Amplified is a podcast for aviation's technology experts. Learn more about the ever-changing world of avionics technologies from industry professionals and aviation enthusiasts. Subscribe to AEA Amplified on Apple Podcasts, Google Podcasts, Pandora, Podbean, iHeart Radio or Spotify.