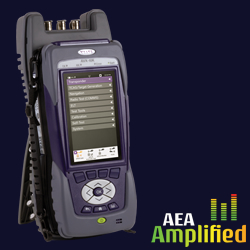 With a history that dates back to 1923 (1968 for IFR), VIAVI Solutions' Avionics Test group out of Wichita, Kansas, is a leader in design and manufacture of avionics test equipment. The company provides accurate, reliable and cost-effective test solutions for maintenance needs.
One of the company's latest innovations is the AVX-10K for testing navigation, communications and surveillance gear – in and around the aircraft or on the test bench. Learn more from Guy Hill, director of avionics test products at VIAVI Solutions, along with Kerry Crawford, product manager of avionics test products, in this episode of AEA Amplified.
Sponsored by Genesys Aerosystems, a Moog Company, AEA Amplified is a podcast for aviation's technology experts. Learn more about the ever-changing world of avionics technologies from industry professionals and aviation enthusiasts. Subscribe to AEA Amplified on Apple Podcasts, Google Podcasts, Pandora, Podbean, iHeart Radio or Spotify.