James Temple of Temple Electronics is Member of the Year; Garmin is Associate Member of the Year
NEW ORLEANS, LOUISIANA, March 28, 2022 -- Two prestigious industry awards were presented during the opening session of the 65th annual Aircraft Electronics Association International Convention & Trade Show at the Ernest N. Morial Convention Center in New Orleans, Louisiana, March 28.
Determined in a vote by AEA members, James Temple of Temple Electronics was named the AEA Member of the Year, while Garmin was honored as the AEA Associate Member of the Year.
2022 AEA Member of the Year: James Temple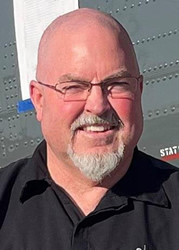 James Temple started working in the business and general aviation industry when he was just 13 years old. He worked alongside his father, Marshall Temple, who founded Temple Electronics in 1973.
Temple began working during his summer school break in 1976. When he turned 16, he began building install lash-ups (marking wires and populating connectors). Two years later, at age 18, he began engineering and performing simple installations from start to finish. In his early 20s, Temple attended almost all the Honeywell, BendixKing and Universal Avionics training classes to receive as much education as he could. He also began bench working nav/comms and autopilots, flight line AP systems, and all avionics systems. By the late 1980s, he was running Temple Electronics with help from his father's guiding hand.
In 1993, Marshall Temple retired, and James Temple has carried on his father's legacy by continuing to grow the business and always looking ahead to new technologies that will help the company advance in the future. Temple Electronics has been an active member of the AEA since the company opened in 1973, and it sponsors the Marshall Temple scholarship through the AEA Educational Foundation.
2022 AEA Associate Member of the Year: Garmin


With nearly 19,000 associates in 34 countries around the world, Garmin brings GPS navigation and wearable technology to the automotive, aviation, marine, outdoor and fitness markets. From its inception in 1989, Garmin has served the avionics market with innovative, high-quality and cost-effective solutions. With a comprehensive lineup of avionics upgrades, the company is a leading provider of retrofit, forward-fit, and safety-enhancing avionics equipment for the general aviation, business aviation, and rotorcraft markets.
Headquartered in Olathe, Kansas, Garmin has an experienced authorized dealer network comprised of AEA member companies. As part of the Garmin Autonomí family of autonomous safety-enhancing technologies, Garmin Autoland was awarded the 2020 Robert J. Collier Trophy for the world's first certified autonomous system designed to activate during an emergency to safely fly and land an aircraft without human intervention. In the event of an emergency such as pilot incapacitation, a passenger on board can activate Autoland with a simple press of a dedicated button.
In July 2021, Garmin introduced Smart Glide, a revolutionary safety tool that helps pilots in an emergency. In the event of the loss of engine power in a single-engine aircraft, a pilot faces the urgent, workload-intensive job of maneuvering the aircraft from its current position to a suitable airport. Through compatible avionics such as GTN Xi series navigators, Smart Glide provides assistance to the pilot by recommending a suitable airport estimated to be within glide range, and it provides critical information to the pilot and optimizing select avionics settings to save the pilot precious time and workload.
Garmin has reaped the benefits of AEA membership since joining the association in 1990. In addition to promoting its brand by advertising in Avionics News, the company exhibits and sponsors events at the AEA International Convention & Trade Show and the AEA Connect Conferences throughout the year.
Garmin also sponsors an annual scholarship through the AEA Educational Foundation and makes significant donations to the annual AEA silent auction.
– 30 –
Founded in 1957, the Aircraft Electronics Association represents nearly 1,300 member companies in more than 40 countries, including approved maintenance organizations specializing in maintenance, repair and installation of aircraft electronics systems in general aviation aircraft. The AEA membership also includes manufacturers of aircraft electronics equipment, instrument repair facilities, instrument manufacturers, airframe manufacturers, test equipment manufacturers, major distributors, engineers and educational institutions.