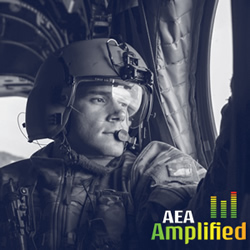 The Aircraft Electronics Association is collaborating with NextOp to connect U.S. veterans and military members with career opportunities in the avionics industry. NextOp recruits, develops and places high-performing middle-enlisted (E-3 to E-7) leaders into industry careers.
For qualified candidates, NextOp employment coordinators will partner with enlisted service members and veterans through every step of the process until the individual finds, receives and accepts an offer of employment. For AEA businesses looking to hire, NextOp will support each company to develop and execute their veteran hiring and retention strategies.
Learn more from Patrick McManus, employment coordinator for NextOp, in this episode of AEA Amplified.
Sponsored by Genesys Aerosystems, a Moog Company, AEA Amplified is a podcast for aviation's technology experts. Learn more about the ever-changing world of avionics technologies from industry professionals and aviation enthusiasts. Subscribe to AEA Amplified on Apple Podcasts, Google Podcasts, Pandora, Podbean, iHeart Radio or Spotify.