LEE'S SUMMIT, MISSOURI, Jan. 24, 2023 -- The Aircraft Electronics Association has added another workforce development tool to the aerospace industry's belt by launching AeroCareers.net. The website was designed as a one-stop shop to help recruit and retain the next generation of talent. Built by industry professionals and powered by the AEA, the new site offers a spotlight on career paths in aviation and includes links to jobs, scholarships, aviation schools, veterans' resources, information for educators, salary data and more.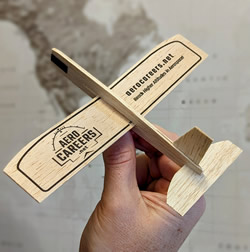 "Developed by a team of industry representatives who acknowledge the path to a career in aerospace can take many forms, this workforce initiative strives to provide clear and simple information for those who aspire to reach a higher altitude," said AEA President and CEO Mike Adamson. "Business owners, aircraft technicians, pilots, engineers, marketers and manufacturers all joined the effort to sharpen the focus on opportunities in aerospace and make the path to success easier to navigate. It is a resource for anyone interested in aviation and something the entire industry can use when promoting careers."
AeroCareers.net will inform, educate and direct students, parents, teachers, counselors, veterans and career changers to help attract the best talent for the industry. Just as aircraft are able to climb to higher altitudes, the aerospace field has many growth opportunities for people new to the industry as well as those with experience.
In addition, employers recognize the value veterans bring to the workplace but often find it challenging to connect with transitioning service members and veterans seeking employment while fully appreciating their experience or expertise. AeroCareers.net is the link to many valuable resources to help military members and veterans find careers in aerospace that align with the knowledge, skills and abilities earned while in uniform.
The online resource also includes a showcase featuring industry professionals who work in various segments of the industry. Each individual offers advice and outlines their personal career pathway to help inspire the next generation of aerospace professionals. The website also offers answers to frequently asked questions for those considering a career in aerospace.
– 30 –
Founded in 1957, the Aircraft Electronics Association represents nearly 1,300 member companies in more than 40 countries, including approved maintenance organizations specializing in maintenance, repair and installation of aircraft electronics systems in general aviation aircraft. The AEA membership also includes manufacturers of aircraft electronics equipment, instrument repair facilities, instrument manufacturers, airframe manufacturers, test equipment manufacturers, major distributors, engineers and educational institutions.