SUMMARY:
On Sept. 15, Transport Canada Civil Aviation signed an agreement with the Federal Aviation Administration that expands the current relationship by allowing the authorities to rely on each other's regulatory systems in the design and certification of aviation articles. The agreement will eliminate duplicate processes, get safety-enhancing equipment installed on aircraft more quickly, and save time and money for both industry and the regulatory authorities involved.
MAJOR HIGHLIGHTS: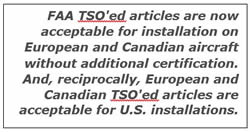 The international agreement between the TCCA and the FAA allows for the reciprocal acceptance of technical standard orders. That is, FAA TSO'ed articles are now acceptable for installation on European and Canadian aircraft without additional certification. And, reciprocally, European and Canadian TSO'ed articles are acceptable for U.S. installations.
For decades, the TCCA has generally accepted U.S. TSO'ed articles as acceptable for installation on Canadian registered aircraft, and the FAA required the recertification of Canadian products shipped south. This new agreement allows for the mutual recognition by both parties such that Canadian products are now acceptable for installation on U.S. registered aircraft without additional FAA approval.
More information on the new agreement can be found at: www.tc.gc.ca/eng/civilaviation/standards/int-baa-usa-2000-3676.htm
AEA COMMENTARY:
The Aircraft Electronics Association commends and thanks the TCCA for its leadership in promoting globalization of the aviation industry. The issue of the enhanced global acceptance of Canadian TSOs is a topic of discussion at the 2015 AEA Regional Meetings.
While the changes to the Bilateral Aviation Safety Agreements have been penned, none of the authorities have published guidance regarding the implementation of these changes. The AEA encourages the TCCA to develop and publish policies and guidance as soon as possible so that industry can fully benefit from its efforts.
FOR MORE INFORMATION:
Contact Ric Peri, AEA vice president of government and industry affairs, by email at ricp@aea.net or by phone at 202-589-1144.