AEA Convention dates set through 2019
LEE'S SUMMIT, MISSOURI, Jan. 13, 2015 -- The Aircraft Electronics Association today unveiled the dates and locations for its 2015 Regional Meetings. The 2015 AEA Regional Meeting schedule is as follows: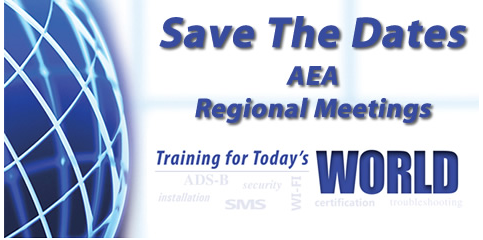 2015 AEA Regional Meetings

| | |
| --- | --- |
| May 4-6 | Europe (Barcelona, Spain) |
| Aug. 18-19 | Latin America (Bogota, Colombia) |
| Sept. 10-11 | U.S. Central (Kansas City, Missouri) |
| Sept. 21-22 | U.S. West (Reno, Nevada) |
| Oct. 1-2 | Canada (Toronto, Ontario) |
| Oct. 12-13 | U.S. East (Tampa, Florida) |
| Nov. 2-3 | South Pacific (Queenstown, New Zealand) |
The AEA annually hosts regional meetings in the U.S., Canada, Europe, Latin America and the South Pacific. The AEA Regional Meetings offer a forum to see, hear and learn about all the new technology on the market, network with industry peers and discover best practices for the aviation repair station industry. Attendees and exhibitors gather for two to three days of regulatory and technical seminars, business management sessions and exhibits.

For more information about the AEA Regional Meetings, visit www.aea.net/regional. Advance registration will be accepted online beginning Feb. 1.
In addition, the dates and locations for the annual AEA International Convention & Trade Show have been confirmed through 2019. The future convention schedule is as follows:

Future AEA Conventions
2015 April 8-11 (Dallas, Texas)
2016 April 27-30 (Orlando, Florida)
2017 March 13-16 (New Orleans, Louisiana)
2018 March 26-29 (Las Vegas, Nevada)
2019 March 25-28 (Palm Springs, California)
Advance registration for the 58th annual AEA International Convention & Trade Show is now available online at
www.aea.net/convention
. The deadline to register is March 18, and the event takes place at Marriott's Gaylord Texan Resort & Convention Center in Dallas, Texas, April 8-11. The event is the only wholesale avionics show marketed to nearly 90 percent of the international government-certified avionics repair shop industry. It is the platform of choice for companies to introduce new avionics products and services, and the exhibit hall will be filled with more than 135 exhibitors ready to network face-to-face with their dealers. More than 75 hours of regulatory, technical and business training classes will be available to attendees.
– 30 –
Founded in 1957, the Aircraft Electronics Association represents nearly 1,300 member companies in more than 40 countries, including approved maintenance organizations specializing in maintenance, repair and installation of aircraft electronics systems in general aviation aircraft. The AEA membership also includes manufacturers of aircraft electronics equipment, instrument repair facilities, instrument manufacturers, airframe manufacturers, test equipment manufacturers, major distributors, engineers and educational institutions.