LEE'S SUMMIT, MISSOURI, July 13, 2015 -- Published annually by the Aircraft Electronics Association, the 2015-16 edition of the Pilot's Guide to Avionics will be unveiled with free distribution at the Experimental Aircraft Association's AirVenture in Oshkosh, Wisconsin, July 20-26. AEA staff members will distribute thousands of free copies to pilots and aircraft owners at the AEA's AirVenture booth, No. 2035/2036 in Hangar B at Wittman Regional Airport.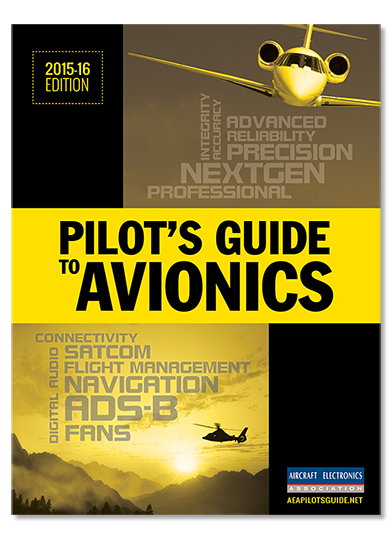 This year marks the 13th annual edition of the Pilot's Guide to Avionics, a consumer's directory loaded with educational articles, timely information and data about the wonderful world of avionics technologies. The publication helps pilots and aircraft owners make better buying decisions and locate nearly 1,300 AEA member companies in 43 countries, including government-certified repair stations around the world specializing in maintenance, repair and installation of avionics and electronic systems in general aviation aircraft. It also includes the manufacturers and distributors of these products, as well as technical schools and universities, engineers and consultants for the industry. 
Some of the informational articles featured in this year's Pilot's Guide to Avionics include:
New avionics products for 2015.
ADS-B around the globe: different deadlines, similar challenges.
Value-added refurbs.
Digital redundancy & plug-and-play capabilities: Avionics that meet a homebuilder's operational and economic needs.
Safety product prospects: New angle-of-attack options help reduce loss-of-control accidents.
Advancing cordless cockpits: wireless for audio, FMS, software updates and in-flight Internet.
Do the math: Early adoption of ADS-B is critical.
Stay connected to the cloud, while flying in the clouds: Cabin 'infotainment' technology for piston and light turbine aircraft.
NextGen's next technology: For Part 25 jets, it's datalink, Satcom and FANS.
Got ADS-B?
"Each year, thousands of aircraft owners and pilots visit the AEA booth in Oshkosh to pick up their complimentary copy of the Pilot's Guide to Avionics," said Paula Derks, AEA president. "In addition to the educational articles, this publication helps aircraft owners locate hundreds of government-certified repair shops. This is even more important today with the looming ADS-B Out mandates around the globe, and these repair shops are ready to help aircraft owners determine the most efficient compliance plan to meet their individual needs. The AEA staff looks forward to assisting and visiting with our friends in the pilot community throughout the week in Hangar B at AirVenture." 
Thousands of copies of the Pilot's Guide to Avionics are distributed each year at several industry trade shows and at no charge to all AEA members. 
Individuals in the U.S. also may request a free copy of the AEA's Pilot's Guide to Avionics online at www.aeapilotsguide.net/request.asp while supplies last.
– 30 –
Founded in 1957, the Aircraft Electronics Association represents nearly 1,300 member companies in more than 40 countries, including approved maintenance organizations specializing in maintenance, repair and installation of aircraft electronics systems in general aviation aircraft. The AEA membership also includes manufacturers of aircraft electronics equipment, instrument repair facilities, instrument manufacturers, airframe manufacturers, test equipment manufacturers, major distributors, engineers and educational institutions.