The Aircraft Electronics Association and Avionics News magazine recently developed a new position to help AEA member companies with their marketing and advertising needs. The new position was filled July 1, with the hire of Darla Hall as the Association's new marketing/advertising coordinator.

"Now, more than ever, AEA members are recognizing the need to have a marketing partner in their corner as they try to reach new customers while maintaining their existing customer base as economically as possible," said Paula Derks, president of the AEA.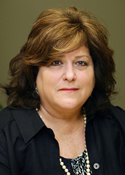 "With the addition of Darla to the AEA staff, she will be able to work with members to assist them in developing cost-effective marketing plans that spread their message about new products and services," Derks said.

Hall is a veteran of marketing, branding and advertising initiatives as the former branch manager for JWT Specialized Communications, where her clients included Sprint, Hallmark, Russell Stover and TWA. While at JWT, she received many awards, including Office of the Year and Outstanding News Business Development.

Most recently, Hall worked as an account executive and marketing specialist in the publishing industry, coordinating the advertising efforts of local, regional and national accounts for newspapers, including for The Kansas City Star, The Examiner and Sun News.

Hall previously worked with Trisha Drape, editor of Avionics News and director of communications for the AEA, and with Jeff Kirchhoff, creative director for Avionics News and the AEA. The three were part of the team that won the coveted Gold Cup award, naming the newspaper for which they worked the best community newspaper in the state of Missouri.

Hall is a graduate of the University of Kansas. She and her 17-year-old son, Adam, live in Lee's Summit, Mo.

Hall enjoys reading, movies, exploring the new world of social media, KU basketball and the Kansas City Chiefs, as well as volunteering for her son's high school, swim team and Boy Scouts.

To reach Darla Hall, call the AEA headquarters at 816-347-8400 or send e-mails to darlah@aea.net.
– 30 –
Founded in 1957, the Aircraft Electronics Association represents nearly 1,300 member companies in more than 40 countries, including approved maintenance organizations specializing in maintenance, repair and installation of aircraft electronics systems in general aviation aircraft. The AEA membership also includes manufacturers of aircraft electronics equipment, instrument repair facilities, instrument manufacturers, airframe manufacturers, test equipment manufacturers, major distributors, engineers and educational institutions.