Former Air Force One Commander to deliver keynote address,
sponsored by Universal Avionics Systems Corp.
LEE'S SUMMIT, MO., Jan. 30, 2012 -- Retired Air Force Col. Mark W. Tillman, chosen as the nation's 12th presidential pilot, will speak during the official opening ceremonies at the 55th annual Aircraft Electronics Association International Convention & Trade Show, Wednesday, April 4, at the Gaylord National Hotel & Convention Center in Washington, D.C.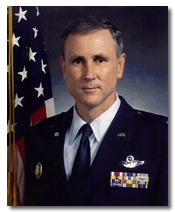 Tillman retired from the U.S. Air Force in February 2009, following a distinguished 30-year career that culminated with his command of the U.S. Presidential Airlift Group from 2001 to 2009.
He served as pilot and commander of Air Force One through numerous national events. Most notably, he protected President George W. Bush on Sept. 11, 2001, by keeping him out of harm's way and connecting the flying Oval Office to the nation's first responders. He was at the controls for more than 49 foreign trips to 75 countries and piloted the plane for presidential covert trips to combat zones in Iraq and Afghanistan. In 2004, he was awarded the Distinguished Flying Cross after his successful planning and execution of the first covert trip, which took place on Thanksgiving Day in 2003. Tillman was promoted to brigadier general by the president, becoming the first military line officer to receive the honor.
Presented by Universal Avionics Systems Corp., Tillman's keynote address will discuss the concept of a Zero Fail Mission and its application in business, including elements of teamwork, management and leadership. A man devoted to serving his country, this captivating storyteller will offer a first-hand account of remarkable moments in history.
Nearly 1,500 avionics manufacturers, dealers, installers and other general aviation professionals will converge at the AEA International Convention & Trade Show, April 3-6, in the nation's capital. Featuring more than 75 hours of avionics technical training courses and an exhibit hall bursting with new avionics technologies in 2012, the AEA International Convention & Trade Show is the preeminent venue dedicated solely to the general aviation avionics industry. Not open to the public, this event's primary focus is providing avionics professionals with educational and marketing opportunities, as well as training and networking among equipment manufacturers, distributors and government-certified repair stations.
To register for the four-day event, click here.
For more information, contact Geoff Hill, AEA director of communications, at 816-347-8400 or geoffh@aea.net.
– 30 –
Founded in 1957, the Aircraft Electronics Association represents nearly 1,300 member companies in more than 40 countries, including approved maintenance organizations specializing in maintenance, repair and installation of aircraft electronics systems in general aviation aircraft. The AEA membership also includes manufacturers of aircraft electronics equipment, instrument repair facilities, instrument manufacturers, airframe manufacturers, test equipment manufacturers, major distributors, engineers and educational institutions.