Special 10th anniversary edition is chockfull of educational articles, timely information and data about the wonderful world of avionics technologies.
LEE'S SUMMIT, MO, July 9, 2012 -- The 2012-13 edition of the Aircraft Electronics Association's Pilot's Guide to Avionics debuts July 23-29 in Oshkosh, Wis., during the Experimental Aircraft Association's AirVenture. The free Pilot's Guide is available at the AEA's AirVenture booth, No. 2035/36, Hangar B.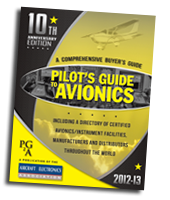 This year marks the special 10th anniversary edition of the Pilot's Guide to Avionics, a consumer's directory published by the AEA containing buyer's guides, educational articles and timely information about the avionics industry, its products and its people. The publication helps pilots make better buying decisions and locate more than 1,300 government-certified repair stations around the world specializing in maintenance, repair and installation of avionics and electronic systems in general aviation aircraft. The back portion of the Pilot's Guide includes a directory of AEA members that sell, install and service avionics and instruments. It also includes the manufacturers and distributors of these products, as well as technical schools and universities, engineers and consultants for the industry.

Some of the articles featured in the 2012-13 Pilot's Guide to Avionics include:
New Avionics Products for 2012.
Training Time: Installing New Knowledge with Equipment.
Combined Vision 2012.
Electronic Engine Instruments: The 'Other' Glass Upgrade.
Touchscreen Mania: The Infinitely Variable 'Digital' Interface.
In Through the Out Door: Displaying ADS-B Data on Your Panel.
EFB Solutions.
ADS-B: The Seven Key Questions Every Pilot Should Ask.
Flight Deck iPads and Tablets: Uses Abound for Almost Everything - Except Guaranteeing Safety.
WAAS GPS: Can Pilots Get WAAS Without Going All-In-One?
Sounding Off On Audio Panels.

Thousands of Pilot's Guides are distributed each year at no charge to all AEA members, National Association of Flight Instructors members, flying clubs throughout the U.S., and at various industry trade shows.
To request a
Pilot's Guide
, visit
www.aeapilotsguide.net
. The website includes an avionics glossary, repair station directory by state and country, archives of past
Pilot's Guide
articles and much more.
– 30 –
Founded in 1957, the Aircraft Electronics Association represents nearly 1,300 member companies in more than 40 countries, including approved maintenance organizations specializing in maintenance, repair and installation of aircraft electronics systems in general aviation aircraft. The AEA membership also includes manufacturers of aircraft electronics equipment, instrument repair facilities, instrument manufacturers, airframe manufacturers, test equipment manufacturers, major distributors, engineers and educational institutions.