Aviation record-holder will deliver keynote address during AEA Official Opening, sponsored by Universal Avionics Systems Corp.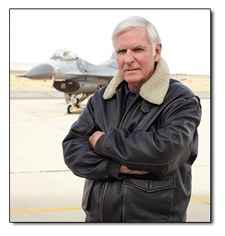 Dick Rutan
(photo by Jeff Berlin of Berlincreative.com)
LEE'S SUMMIT, MO., Feb. 19, 2013 -- Dick Rutan, a pilot, entrepreneur and adventurer who made history in December 1986, after completing a nine-day, nonstop and nonrefueled flight around the world that established a flight-endurance record, will be the keynote speaker during the official opening at the 56th annual Aircraft Electronics Association International Convention & Trade Show.
The official opening is sponsored by Universal Avionics Systems Corp. and will take place Tuesday, March 26, at the MGM Grand Hotel & Convention Center in Las Vegas, Nev.

In early 1981, Rutan founded Voyager Aircraft Inc. and prepared to complete the first around-the-world, nonstop, nonrefueled flight. On the morning of Dec. 14, 1986, a fuel-laden Voyager, with Rutan and Jeana Yeager onboard, took off on the history-making flight. Nine days, three minutes and 44 seconds later, Rutan set the storm-battered Voyager down at Edwards Air Force Base in California, successfully completing the six-year quest. Four days later, President Ronald Reagan awarded Rutan the Presidential Citizen's Medal of Honor at a special ceremony. To this day, no aircraft has flown more air miles than the Voyager's 26,358 statute miles.

The Voyager is now suspended in the Smithsonian Air and Space Museum's Milestones of Flight gallery in Washington, D.C., and Rutan was inducted into the National Aviation Hall of Fame in Dayton, Ohio, in July 2002.

In December 2005, Rutan set another world record in the EZ-Rocket for the longest distance in a ground-launched rocket-powered aircraft, flying from the Mojave Air and Space Port to the California City Airport. Touted as the "shortest long-distance flight," this record is recognized by the National Aeronautic Association. In April 2006, he was awarded the NAA's Most Memorable Flight of 2005 Award in Washington, D.C., after establishing another world record.

As a Tactical Air Command fighter pilot during most of his two decades in the Air Force, Rutan flew 325 combat missions in Vietnam, 105 of them as a member of a high-risk, classified operation commonly known as the MISTYs. Before retiring from the Air Force in 1978, Lt. Col. Rutan was awarded the Silver Star, five Distinguished Flying Crosses, 16 Air Medals and the Purple Heart.

For more information on Rutan, visit www.dickrutan.com.

Don't Miss the AEA International Convention & Trade Show
March 25-28, 2013
Las Vegas, Nev. -- MGM Grand Hotel & Convention Center
Featuring more than 75 hours of avionics technical training courses and an exhibit hall bursting with new avionics technologies in 2013, the AEA International Convention & Trade Show is the preeminent venue dedicated solely to the general aviation avionics industry. Not open to the public, this event's primary focus is providing avionics professionals with educational and marketing opportunities, as well as training and networking among equipment manufacturers, distributors and government-certified repair stations. The event is the platform of choice for the introduction of new avionics products coming to market in 2013.
To register for the four-day event, click here.

The official Twitter hashtag for the AEA Convention is #AEA13.
– 30 –
Founded in 1957, the Aircraft Electronics Association represents nearly 1,300 member companies in more than 40 countries, including approved maintenance organizations specializing in maintenance, repair and installation of aircraft electronics systems in general aviation aircraft. The AEA membership also includes manufacturers of aircraft electronics equipment, instrument repair facilities, instrument manufacturers, airframe manufacturers, test equipment manufacturers, major distributors, engineers and educational institutions.