Workshop Addresses Cost Barriers to Avionics Product Certification
LEE'S SUMMIT, MO., June 27, 2013 -- In cooperation with the Federal Aviation Administration, the Aircraft Electronics Association played host to more than 50 attendees at this week's AML-STC Avionics Product Certification Workshop, which took place June 25-26 in the Dan Derby Center for Professional Development at the AEA's international headquarters in Lee's Summit, Mo.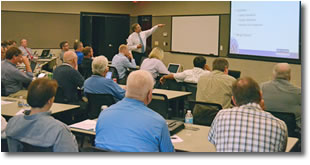 The workshop was predicated on a discussion for a "case for safety" for general aviation aircraft retrofit avionics.

Attendees discussed a variety of issues and offered recommendations to address the workshop's agenda, which included:
Breaking the cost barriers to avionics certification.
Validation procedures for approved model lists under the bilateral aviation safety agreements between the U.S. and Europe, as well as Canada.
Where are the true hidden costs of certification/method of compliance for avionics (EFIS, ADS-B, etc.)?
What role production approval plays in the cost equation, and how Part 21 production (PMA) can be scaled for general aviation retrofit.
Situation for retrofit avionics, from light GA to adding utility to the older commuter aircraft.
Scalability of MOC for HIRF, lightning and software to reduce cost/complexity of avionics certification.
The workshop was a first step in addressing the challenges of certifying new systems using the AML-STC criteria. Additional workshops are planned to continue seeking solutions for streamlined and cost-effective certifications.

"In step with our efforts throughout many years of hosting new technology forums, including ADS-B and Wi-Fi workshops, along with the Avionics Rotorcraft Forums, this simply is a continuum of the AEA's efforts to bring both the avionics industry and the regulatory agencies together to focus on continuous improvements of the certification processes for avionics systems," said Ric Peri, AEA vice president of government and industry affairs.

For more information about the AEA, visit www.aea.net.
– 30 –
Founded in 1957, the Aircraft Electronics Association represents nearly 1,300 member companies in more than 40 countries, including approved maintenance organizations specializing in maintenance, repair and installation of aircraft electronics systems in general aviation aircraft. The AEA membership also includes manufacturers of aircraft electronics equipment, instrument repair facilities, instrument manufacturers, airframe manufacturers, test equipment manufacturers, major distributors, engineers and educational institutions.