National Aviation Hall of Fame member will deliver keynote address during AEA Opening Session, sponsored by Universal Avionics Systems Corp.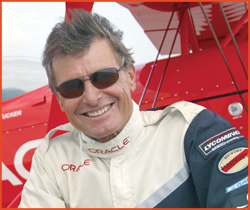 LEE'S SUMMIT, MO., Feb. 21, 2014 – Sean D. Tucker, honorary chairman of the Experimental Aircraft Association's Young Eagles program, will be the keynote speaker during the opening session at the 57th annual Aircraft Electronics Association International Convention & Trade Show.
The opening session is sponsored by Universal Avionics Systems Corp. and will take place Thursday, March 13, at the Gaylord Opryland Resort & Convention Center in Nashville, Tenn., beginning at 8:30 a.m. CDT.
Tucker flies hard-charging, power aerobatics in his highly modified, one-of-a kind aerobatic dream machine sponsored by Oracle. Its revolutionary set of wings uses eight ailerons instead of four and sports a high-performance tail.
With more than 20,000 hours of flight time, Tucker started his flying career crop-dusting in modified Stearman biplanes. In 1975, he began competing, soon earning national recognition and coveted title of U.S. National Advanced Aerobatic Champion.
Now with more than 1,100 performances at more than 450 airshows, he has won numerous aerobatic competitions and received more than 18 prestigious awards, including induction into the National Aviation Hall of Fame in 2008.
Some of Tucker's distinguished honors include the following:
Honorary Chairman of the EAA Young Eagles Program
Honorary Thunderbird, Blue Angel, Canadian Snowbird, Brazilian Smoke Squadron, Golden Knight
2011: Living Legends of Aviation — Aviation Inspiration & Patriotism Award
2010: General Charles E. Yeager International Aeronautical Achievements Award
2010: EAA's Freedom of Flight Award
2009: International Aviation Air and Space Hall of Fame Inductee
2008: National Aviation Hall of Fame Inductee
2007: Living Legend in Aviation Award
2007: International Council of Airshows Hall of Fame Inductee
2006: National Aeronautic Association Crystal Eagle Award
2003: Smithsonian National Air and Space Museum, Named One of the 25 Living Legends of Flight
2001: USAF Gathering of Eagles Inductee
2000: World Airshow Federation Champion
2000: International Council of Airshows Sword of Excellence
1998–2001: Undefeated Champion of the Championship Airshow Pilots Association Challenge
1997: General Aviation News and Flyer Reader's Choice Award for Best Male Performer
1992: The Art Scholl Memorial Showmanship Award
1992: The Bill Barber Award for Airshow Showmanship
1988: U.S. National Advanced Aerobatic Champion
– 30 –
Founded in 1957, the Aircraft Electronics Association represents nearly 1,300 member companies in more than 40 countries, including approved maintenance organizations specializing in maintenance, repair and installation of aircraft electronics systems in general aviation aircraft. The AEA membership also includes manufacturers of aircraft electronics equipment, instrument repair facilities, instrument manufacturers, airframe manufacturers, test equipment manufacturers, major distributors, engineers and educational institutions.