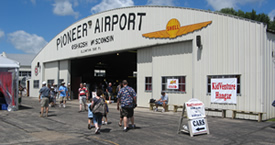 EAA's KidVenture campus is a prominent fixture of the AirVenture landscape. Each year during the annual fly-in, thousands of kids are given the opportunity to build their own planes, fly a high-tech flight simulator, be an air traffic controller, meet aviation legends and — thanks to the Aircraft Electronics Association — test their troubleshooting skills as junior avionics technicians.

This year, the AEA participated in what is perhaps the industry's single largest outreach event for youth in aviation. As part of a mini-maintenance program, young participants were able to earn two-hours credit toward an A&P license. AEA staff and a team of volunteers, including Mark Scheuer, CEO and founder of PS Engineering; Kim Stephenson, manager of aftermarket sales for L-3 Avionics Systems; Rex Niver, AMT instructor at Tulsa Technology Center; and a student from Fox Valley Technical College, explained basic electrical theory to participants and conducted a mini-troubleshooting and installation exercise.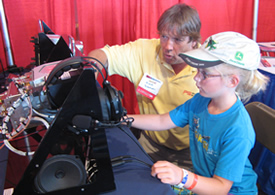 KidVenture participants were inspired about careers in avionics while learning proper wire-cutting, stripping, crimping and installation practices, as well as making a proper audio connection.

"Their installation was a success when their speaker connection worked and air traffic control or a favorite radio station came blaring out," said Mike Adamson, vice president of member programs and education for the AEA. "Their eyes get as wide as the horizon and the next generation of technicians is born."

AEA member companies interested in supporting our efforts in 2011 please contact Mike Adamson at mikea@aea.net.