Introducing a new benefit for AEA members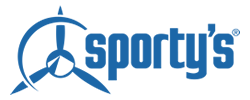 Thanks to Sporty's, the value of membership continues to grow, as Aircraft Electronics Association members can now take 50% off the purchase of the following Sporty's pilot training courses:
Learn to Fly Course – Private Pilot Ground School
Instrument Rating Course – FAA Test Prep
Commercial Pilot Training Course
This exclusive AEA member offer will help you ace your FAA written test, save money during flight training, become a better technician and a better pilot with Sporty's pilot training courses. Each course has hours of 4K videos and animations to explain everything you need to know to earn your private pilot certificate and feel confident in the left seat. Combine that with powerful test prep tools, a comprehensive document library, and convenient app options, and you have aviation's most complete training course.
New video segments: Runway safety tips, how to avoid wake turbulence, using both digital and paper charts, FAR updates, and more.
Powerful notes tool: Organize your key takeaways in one place, and pin content from videos or documents for later review.
Windows tablet app: Now you can use Sporty's Pilot Training app for Android on your Windows device—perfect for studying on a Surface tablet.
Interactive exercises: Go beyond videos with simulators and quizzes that allow you to adjust instruments, move an airplane on a map, and much more.
FAR bookmarking and study guides: Streamline your studying of the Federal Aviation Regulations with time-saving tools for each certificate level.
In-course messaging: Stay connected to your Sporty's course, with contextual reminders and new content alerts.
Free lifetime updates: Get the latest features and content without paying a subscription; just log in and learn.
Guaranteed to pass all three tests: Much more than just written test prep, Sporty's course prepares you for the knowledge, oral, and flight tests.
Instant written test endorsement: Once you've passed two practice tests, we'll give you the flight instructor sign-off for the test.
Available on all your devices: Study anywhere, anytime with Sporty's convenient app options for iOS, Android, Mac, web browser, and smart TV.
To take advantage of this exclusive AEA member benefit, click here to request your 50% off promotional code with your member login and password and get started on learning to fly and taking your technician skills to another level.