Available July 28-Aug. 3 at the AEA's booth, No. 2035/36 in hangar B
LEE'S SUMMIT, MISSOURI, July 22, 2014 -- Published annually by the Aircraft Electronics Association, the 2014-15 edition of the Pilot's Guide to Avionics will be unveiled with free distribution at the Experimental Aircraft Association's AirVenture in Oshkosh, Wisconsin, July 28-Aug. 3. AEA staff members will distribute thousands of free copies to pilots and aircraft owners at the AEA's AirVenture booth, No. 2035/36 in Hangar B.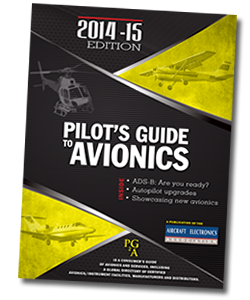 This year marks the 12th annual issue of the Pilot's Guide to Avionics, a consumer's directory loaded with educational articles, timely information and data about the wonderful world of avionics technologies. The Pilot's Guide to Avionics helps pilots and aircraft owners make better buying decisions and locate nearly 1,300 AEA member companies in 43 countries, including government-certified repair stations around the world specializing in maintenance, repair and installation of avionics and electronic systems in general aviation aircraft. It also includes the manufacturers and distributors of these products, as well as technical schools and universities, engineers and consultants for the industry.

Some of the articles featured in this year's Pilot's Guide to Avionics include:
New avionics products for 2014.
AEA's value-added equation for aircraft owners.
Attention FAA: Lead, follow or get out of the way.
Equipped like new: Aircraft owners turn to repair shops for upgrades.
In-flight entertainment: Connecting aircraft to the rest of the world.
Integrating mission capabilities: Homebuilders invest in reliable avionics technology.
Lithium batteries 101.
Autopilot upgrades.
Homebuilding panels: Tackling wires, electrons and circuits.
ADS-B early adopters: Avionics repair shops weigh in on customer buying decisions.
ADS-B installations are beginning to take off.

"The AEA is thrilled to debut this year's Pilot's Guide to Avionics at AirVenture, and our staff looks forward to giving complimentary copies to all the pilots and aircraft owners at the AEA booth in Oshkosh," said Paula Derks, AEA president. "The services provided by the government-certified repair shops in the directory of this publication are becoming increasingly important. For example, these repair shops are ready to help aircraft owners upgrade their equipment to comply with the Federal Aviation Administration's ADS-B Out mandate. It's important for aircraft owners to act sooner rather than later to avoid the backlog that procrastinators who wait are bound to experience. This publication will help aircraft owners determine the most efficient compliance plan."

Thousands of copies of the Pilot's Guide to Avionics are distributed each year at no charge to all AEA members, flying clubs throughout the U.S. and several industry trade shows.

For more information about the AEA's Pilot's Guide to Avionics, visit www.aeapilotsguide.net.