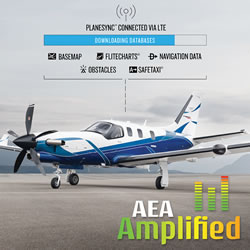 At the 2023 AEA International Convention & Trade Show, Garmin introduced PlaneSync, a connected aircraft management system that simplifies aircraft ownership by automating database updates, providing real-time aircraft status, and more.
Available for both forward-fit and retrofit applications, PlaneSync technology is designed to bring new levels of connectivity and convenience to aircraft owners and operators alike. Jim Alpiser, director of aviation aftermarket sales for Garmin, has the latest information about PlaneSync in this episode of AEA Amplified.
Sponsored by Genesys Aerosystems, a Moog Company, AEA Amplified is a podcast for aviation's technology experts. Learn more about the ever-changing world of avionics technologies from industry professionals and aviation enthusiasts. Subscribe to AEA Amplified on Apple Podcasts, Google Podcasts, Pandora, Podbean, iHeart Radio or Spotify.